The City of Socorro, Brazil – The Pride of the Disability Travel
The word Socorro in Portuguese means Help. It is no coincidence for travelers with disabilities to find a whole city which is helpful to and welcomes them wholeheartedly!
The city was given this name to honor the Patron Saint "Our Lady of "Perpétuo Socorro". This city was chosen by the Non profit organization Aventura Especial founded by Dada Moreira (http://www.aventuraespecial.org.br/telas/aventura.htm) to execute their project called Projeto Aventureiros Especiais " Translation: Special adventurers project). This was in line with one of their objectives "Stimulate people with disabilities to search in nature and in adapted adventurous activities the path to find one 's self esteem"
Dada Moreira with Minister Marta Suplicy  Photo courtsey of Campos dos Sonhos
Reatech (International fair of technologies in rehabilitation, inclusion and Accessibility) which was held in Sao PauloApril 24 – 27, 2008, we were invited by one of our recent member Turismo Adaptado to visit this city. This visit was organized by Ricardo Shimosakai, Joedson Nunes and Bruna Mendes of Turismo Adaptado/ Brasil. Members of the group – Tourism for All – Scott Rains (Rolling Rains), Nelida Barbeito (TTS Viajes/ Argentina), Craig Grimes (Accessible Nicaragua/ Nicaragua) and I left early morning together with the three from Turismo Adaptado. The journey which took about 2 hours was very productive and stimulating To quote Ricardo Shimosakai "Ideas and information concerning our common interest were bubbling up the whole time – adapting tourism for people with disabilities and not the other way around which occurs most of the time, when due to a lack of accessibility and inclusion, you have to find solutions so as not to be excluded."
SATH Booth at ReaTech 2008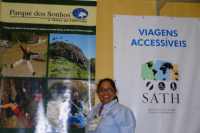 Jani in the SATH Booth at Reatech 2008   
The city is about 82 miles from Sao Paulo. It is located by the side of the Mantiqueira mountain range. It is historically important and had about 20 ancient mansions which were constructed in the beginning of the 20th century.  Nature has been very kind to this place bestowing it with rivers, beautiful waterfalls, valleys, hiking trails, mountains and hills. Most of its wilderness is reserved forest which is a testimony to their commitment to preserve nature and adhere to sustainable tourism.
Entrance to the city Socorro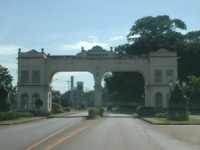 Our first stop was to get our morning caffeine fix at a high way rest stop. We were very pleased to find the employees eager to help and attend to the people in our group who were using wheelchairs. Their rest rooms were accessible. We were very amused when Nunes's car which did not have the disability sign parked in the accessible parking spot and one of the employees who was sweeping the place came over to tell him not to park there. He relented as soon as he saw Scott rains and Craig Grimes get out of the car and transfer to wheelchairs.
At the parking lot at the rest stop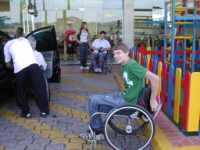 Paula who owns and runs Portal do Sol (Doorway to the Sun) – Portal do Sol Hotel Fazenda – (19) 3895-3003 / (19) 3895-7889 / (19) 9604-7972 – was waiting for us with a huge breakfast spread. The table was set low enough for all of us to serve ourselves. They are adapting their cobble stone path from the restaurant to their chalets and rooms with a smooth path on the side for wheelchairs and a rail to hold on. They have four types of chalets. Their adapted rooms have all the facilities. Some thing new that we saw was the bathroom shower head which has a handle which can be reached while sitting in a wheelchair. This solves a very common problem seen in most places where the shower head is almost always kept at the highest position by the person who cleans the bathroom and cannot be reached unless you can stand.
Craig Grimes serves himself breakfast.
The group at Portal do Sol
Ricardo trying shower head handle height
Parque dos Sonhos Parque dos Sonhos (19) 3955-2870 (the park of dreams) was true to its name. It is a beautiful place full of beautiful people who are eager to make everyone enjoy it to the fullest. Aventura Especial started their work with this place first. After their first testing they decided to make this place the base for their Project Aventureiros Especiais. They have designed and manufactured a hiking chair which is very secure and easily maneuverable.  Bruna was our guinea pig to try it out. We almost could not get her to leave the chair behind!
They have a chart which very clearly explains which activities can and cannot be done by anyone with a disability or any issue of age or weight. That eliminates any communication problems later on, in the midst of an activity. The way they get people with disabilities on to the back of a truck for the trip to the top of the hill for Zipline is very simple. There is a platform where they get the truck to pull up to and the person using a wheelchair just goes up the ramp and then rides right into the back. Slow walkers and other with difficulty walking can get into the truck without having to strain too much.
The chart of Activities
The ramp to the truck
Bruna in the hiking chair with Marcelo and Nunes
The ride up the hill is very exhilarating! The road, if you can call it that, is full of stones and ruts made by water flowing down. We now have a fair idea how the lemon feels when they are shaking up a caipirinha! All of us gathered at the top of the hill to zip away from Sao Paulo state to Minas Gerais state where the zipline ends! It is called the Tirolesa do Pânico which means Zipline of Panic! They claim it to be the longest Zipline in the world since they do not know of any other which goes over 1Km (0.62 mile). It takes about 55 seconds to a minute and a half depending on your weight to finish and can reach a speed of about 55km/h (34 mph). Craig decided to be the bravest and took the video camera as he went down the line! Log on to the video on UTube http://craiggrimes.com/index.php?s=socorro It is not 100% accessible but extremely doable.  Anderson and Marcelo were the people responsible for the zipline. They have been very well trained to take care of people with disabilities and adhere to all norms of safety. For people with disabilities they have designed a seat which carries them very comfortably. I still can't believe I did it!!
The group: Left to right:Standing Marcelo, Nelida, Jani, Nunes, Bruna
sitting: Ricardo, Scott and Craig
Parque dos Sonhos provided us with a typical lunch which again was served on a counter whose height was very adequate for those using a wheelchair. They have two rooms which are adapted to accommodate any type of disability. Their common areas have all been made accessible. For people with visual impairment or blind they have provided tactile flooring to direct them to the restroom, dining room etc. This is a place where you can engage in diverse activities such as rafting, rappelling, acqua ride, tubing, paragliding, rock climbing, trekking, caving, off-road, mountain biking, and arvorismo (walking on top of the trees) that are all adapted to include people with any type of disabilities.
The road to the top of the hill
Craig ready to go down the Zipline
Scott taking off in the special seat
Ricardo serving lunch
Jani ready to take off   Photo Courtsey of Nunes
one of the signs on the road
Our next visit was to BRASIL TURISMO LTDA Base55, (19) 3855 2050 – E-mail: contato@base55.com.br. We got all dressed up to take their newly set up activity. Scott asked to be excused and Bruna kept him company while we went out for our activity. That left just five of us and we got on three of the ATV's (All terrain vehicles). Craig, Ricardo both of who use a wheelchair and Nelida who walks with difficulty and uses a scooter most of the time were the drivers. Base 55 has designed a belt to have the legs kept in the proper position and the ATV's can be ridden if you have upper body control and dexterity in your hands. Off we went even though no one had any experience in riding it.  The ride took us on unpaved roads through the beautiful scenery of hills and valleys.
Craig modeling on top of the four wheeler
Nelida and Jani ready for the ride
After passing through the shopping mall which is in the process of being adapted completely, we reached Campo dos Sonhos (Field of Dreams) Hotel Fazenda Campo dos Sonhos atendimento@campodossonhos.com.br – (19) 3895-3161. They have made all common areas accessible. There is a ramp which will get people using wheelchairs into their huge horse drawn carriage. The rooms have all the adaptations needed for a comfortable stay. They have devised a way and an area for service animals which allows them to go outside to a fenced in area for their necessities and come right back into the room.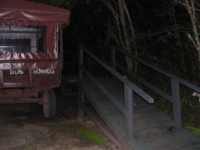 The ramp to get on the carriage
the entrance door for the service animal inside the adapted room
the shower bench in the bathroom
The swimming pool and the mediation area are also adapted for people with disabilities. I saw for the first time a swing that can be used by a child using a wheelchair. The floor in the common areas has tactile directions so as to help those with visual impairments or blindness. The dining room and the restrooms in the social areas are all accessible. Not only have they thought about each detail but have also trained their staff to take care of each and everyone. The day we visited them happened to be the day the owners were celebrating their father's 90th birthday. We were very graciously invited to part take in the celebrations.
Campo dos Sonhos provides a space called "Espaço Zen" for meditation, classes for meditation, yoga, Tai Chi, various types of massages and other holistic treatments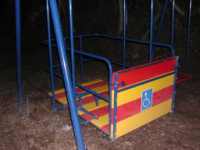 The accessible swing                                      the tactile directions to the restroom
When we returned to Sao Paulo we were an exhausted but very happy group. For the first time ever we had found a city which had taken up the project of making the whole city accessible for people with disabilities.
Thank you Aventura Especial, thank you Ministry of Tourism Brazil,
thank you City of Socorro and
thank you Turismo Adaptado